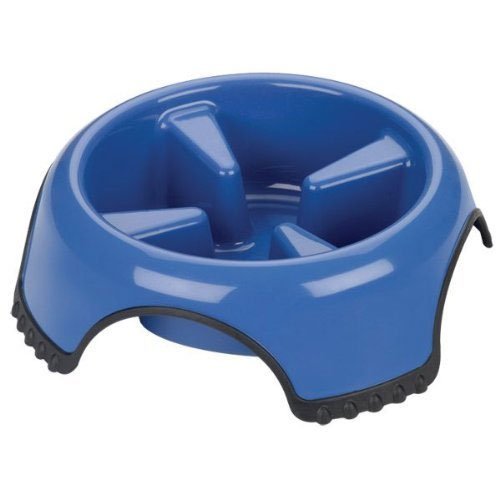 Skid Stop Bowls are designed to stop your pet from scooting, sliding, and chasing his bowl across the floor. The base of each bowl is usually manufactured with a thermoplastic rubber rim to help keep it in its place.
There are a number of No-skid bowls on the market.
JW Pet
offers a number of skidless pet bowls, the most recent is the "
Slow-Eat Skid Stop Bowl
" which serves a dual purpose and helps eliminate the possibility that your dog (or cat) will scarf down his or her meal before you even stop pouring!
Finally, we like
JWPet's standard Skid-Stop Pet Bowl
the best. Heavyweight with traditional styling, it is super easy to clean and is stain resistant, as well as coming in four sizes.
Labels: Pet Feeder, Water Bowl
Start training your puppy properly from the beginning.

While older dogs can be taught new tricks, what a puppy learns early on is learned quickly and easily.
The older the dog, the more the bad habits will need to be "un-learned". When it comes to raising and training a puppy, an ounce of problem prevention is certainly worth a pound of cure!
Train your dog
gently and humanely, have fun and teach him using positive, motivational methods. Keep obedience sessions upbeat so that the training process is fun for your dog and you!
If training your dog is drudgery try the "playtraining" approach: incorporate games (such as "Go Find", "Hide 'n' Seek",
retrieving
, etc.) into your training sessions.
When giving your dog a command, avoid using a loud voice. Even if your dog is especially stubborn, your tone of voice when commanding "sit","down" or ""stay", should be calm and authoritative, rather than harsh or loud.
Keep anger in check. Never train your dog when you're feeling crabby or impatient. Earning your dog's respect cannot be accomplished by yelling, hitting, or handling your dog in a harsh manner. Moreover, studies have shown that fear and/or stress inhibits the learning process.
And don't forget to reward!
Labels: dog training, Dog Treats