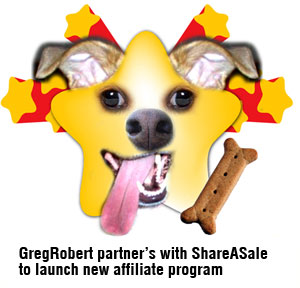 So you are looking for a few extra dollars to supplement your pet-related business and heard about
GregRobert's affiliate program
.?
For those of you that are just "first hearing" about an affiliate program, it's a pretty simple concept that can be summed up by one of the largest affiliate management companies around: ShareASale.
A merchant "Shares the sale profits" with the affiliate that referred him or her. Affiliations have been around as long as business has:
The local pet store owner suggests a dog trainer in your area when you explain to him that you can't get your puppy to stop nipping, and your groomer suggests a vet that specializes in dog cysts when he finds a small cyst on your dog's body.

GregRobert's affiliate program is the same idea. Refer your visitors to thier
pet supplies
and you will be rewarded with a commission.
GregRobert can still offer fantastic prices to customers - so it is a WIN-WIN-WIN proposition.
Here is the overview:
Affiliates registered through the affiliate management program (ShareASale) post links to pet-dog-cat-supply-store.com and/or GRpet.com on their pet related or shopping related websites.

The links may be directed towards specific product pages, sections, or the home page depending on the campaign.

Affiliates earn a minimum of 7% on any revenue generated from customers that they forwarded to GregRobert Pet Supplies. The 7% commission is paid on orders placed within a generous sixty days of clicking the affiliates link to GregRobert.
GregRobert's affiliate program has proven itself as a high converter.

This can be attributed to a number of things, but we believe the low prices and tremendous reputation aid affiliates in selling effectively.
GregRobert is offering something else that many other pet supply affiliate programs do not offer. They are offering a dedicated
affiliate manager to support their affiliates that is versed in datafeed management, web design, development and online marketing.
So what are you waiting for? Sign up for
GregRobert's Pet Supply Affiliate
program today and start earning a supplemental income from the products that you WANT to advertise, today.
Labels: Discount Pet Supplies, Pet Supply Affiliate Program