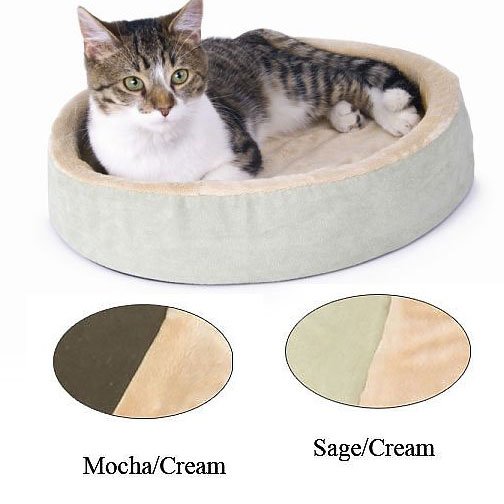 GregRobert Discount Pet Supplies
http://www.grpet.com/
donates five heated cat beds to Wishbones for Pets Charity Drive.
The economy is slowly recovering but not fast enough for cats without homes. Shelters across the United States are overflowing and need supplies to offset budget cuts. GregRobert took the initiative this week to donate warm beds to the Wishbones for Pets Charity Drive which supports local animal shelters.
Home Alone Critter Care of Walled Lake Michigan, a representative company for Wishbones, accepted the
heated cat beds
graciously. The official
Wishbones for Pets
drive starts in a few weekds- but supplies are needed year round at most shelters. The heated cat beds are especially beneficial for cats with arthritis or other health issues. Many cats are delivered to shelters very hungry or sick. Warm beds are necessary year round to help aid sick cats to recovery.
Michelle Miller, director of community relations at GregRobert Pet Supplies stated, "Every little bit that anyone can do to help is a little bit more to the life of an animal without a home. We are fortunate that we could help in these tough economic times."
About Wishbones for Pets
The mission of Wishbones for Pets is to offer a universal community service program hosted by pet sitters that would like to collect and distribute pet goods/funds for local pet shelters and other pet related agencies in their own community. Pet sitters care about their local community, the pet sitting industry and most importantly the animals.
The time frame for this event is approximately six weeks prior to Thanksgiving and may extend one week after Thanksgiving with one exception. Contact a pet sitting service in your area to see if they are offering the program or make a donation to the shelter of your choice.
About GregRobert Discount Pet Supplies

GregRobert
Discount Pet Supplies
was established in 2002 by pet lovers and has grown to a nationally recognized pet supply store with low prices, excellent customer service and fast shipping. Carrying close to 20,000 products they cater to the cost-conscious pet owner. From dog supplies to hamster supplies to horse supplies they have a wide selection of brand name products. Visit GregRobert and take a look at the high quality heated cat beds that they carry.
Labels: GregRobert donations, heated cat bed