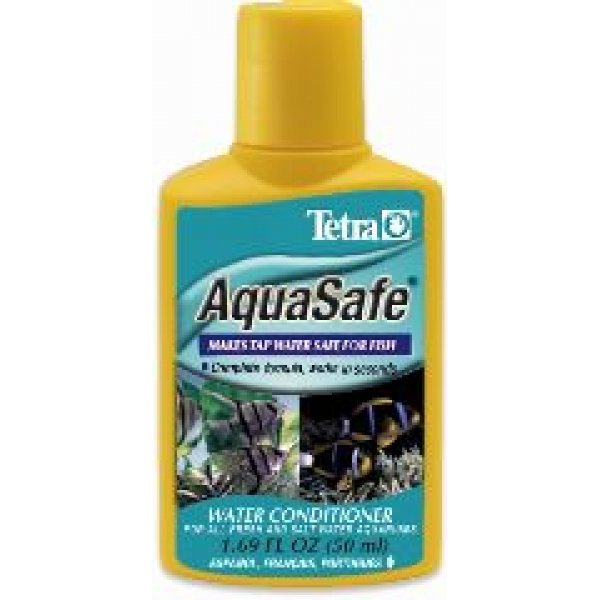 An Aquarium dechlorinator or chlorine remover
is an additive that neutralizes chlorine in your aquarium or fish bowl. It is a chemical that reacts with the chlorine in Tap Water. De-chlorinators are ( in general terms ) 'water conditioners'.
Conditioners that ONLY dechlorinate water are the simplest type of water conditioner. Many, like AquaSafe also remove heavy metals that are bad for your fish. Although a dechlorinator is a water conditioner, not all water conditioners are dechlorinators.
Most municipal water supplies and holding tanks for wells in rural communities, farms, and ranches, are treated with chemicals. These chemicals are fine for us humans because they kill off harmful bacteria and other pathogens that are found in the water.
The most common chemicals found in your water are chlorine and chloramine.
The dosages of these chemicals in the water supply are low enough that they are not harmful to mammals (including people, dogs, cats, hamsters, horses, etc) or house plants, they are high enough to cause damage to fish. First they cause damage to your biological filter and eventually will hurt your fish. It is Aquarium 101 (ie .. very important) that your water is treated to remove chlorine with a dechlorinator before you add the water to your tank or fish bowl.
We like to recommend
AquaSafe Water Conditioner
for fresh and salt water aquariums because it makes tap water safe for your fish. It neutralizes chlorine and heavy metals present in municipal water supplies. If you have Goldfish - try the
AquaSafe Goldfish
version.
AquaSafe also neutralizes chloramines by breaking down the bond between chlorine and ammonia.
It reduces both fish-toxic chlorine and ammonia components. In addition, it enhances the natural protective slime coating of fish to help wounds heal and protect fish from abrasions.

Whether you like our brand or another - never forget to remove the chlorine from water before adding it to your tank.
Labels: Tetra Aquarium Supplies