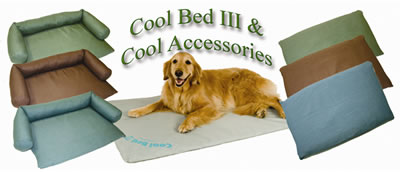 With the hot summer weather upon us, it is important to remember to keep your pet cool.
Pets suffer from the same hot weather problems humans do, like overheating, dehydration and sunburn. You can take some simple precautions so that you and your dog can enjoy the summer months.
Dogs are much more susceptible to overheating than humans are because dogs are much less efficient at cooling themselves. A dog's normal body temperature is 100-102 degrees. Dogs have sweat have sweat glands on their nose and pads of their paws. You probably know that dogs pant to cool down and drink water to cool down. It is important to always have fresh, cool water available for your dog. Remember if you are on walk, in the house or in the yard make sure you have fresh, cool water for your dog. If your dog is an outdoor dog, you need to provide a large shaded area for him and he should be brought inside during the hottest hours of the day. Make certain he always has access to cool water, because the sun can quickly make water too hot to drink. This can be easily accomplished by using a product like the
EverFull Bowl
that simply attaches to your garden hose. Once attached, you turn on the tap and the bowl fills to the perfect drinking level. The bowl automatically refills to the same level, every time your dog takes a drink.
Monitor the amount your dog runs or exercises during the hot days. Heat exhaustion in dogs is caused by dehydration and overheating due to over-exercising during hot weather. Heatstroke can occur when your dog's body temperature is too high for a prolonged period of time. Both heat exhaustion and heatstroke can cause heart failure, brain and organ damage and even death. Pets that are thick coated or short nosed are susceptible, as are puppies, senior dogs and dogs with Heat exhaustion in dogs is often caused by dehydration and overheating from running or over-exercising during hot weather. Heatstroke can occur when your dog's body temperature is too high for a prolonged period of time, and both can lead to brain and organ damage, heart failure and even death. Short-nosed, thick-coated breeds and (just as with people) puppies, seniors and dogs with respiratory, cardiovascular and other health problems are especially susceptible. Interestingly, this is just like people, heat affects babies, the elderly and people with
respiratory, cardiovascular and other health problems .
Signs of heatstroke can be one or more of the following: panting hard, staggering gait, dazed look, listlessness, restlessness, rapid heartbeat, dark red or purple gums and/or tongue and vomiting. If you think that your dog has a heat-induced illness,
gradually
lower his body temperature by moving him to a cool area, either to the shade or air conditioning. Then, apply cold packs to his head, neck or belly. You can immerse your pet in cool (not cold) water or give small amounts of cool water or ice cubes to lick — and then take him to the vet immediately.
Never leave your pet alone in a car during hot weather, not even for a minute. Even with the window cracked, a car's inside temperature can increase as much as 40 degrees in an hour. About 80 percent of that increase occurs within the first 30 minutes. This means that on an 85-degree day, the temperature inside a car, with the windows cracked, can reach 102 degrees within 10 minutes! This is deadly for your pet. If you ever see a pet in a parked car on a hot summer day, enlist the help of a security guard, go to the nearest store and page the owner, or call the local police.
Always protect your pet near water. People think all dogs can swim, this is not true! Many dogs cannot swim and many can, but get panic stricken if they are not familiar with the area. If you take your pet to a lake or have a swimming pool, make sure you have a
life jacket
for her and that she wears it.
A great way to keep you pet cool is to us the
Cool Bed III
™ There is no electricity required to operate the Cool bed III and these beds are attractively designed to allow a cool spot for dogs. Simply add the recommended amount of tap water through the easy fill cap and burp with the new easy air adjustment valve. The unique Cool Core diverts the liquid better than ever throughout the bed for advanced cooling power. Your pet will have a dry, cool, comfy place to relax. This beds works simply - the water-saturated core (that you just add tap water) inside the Cool Bed III absorbs the dog's natural body temperature of 102 degrees Fahrenheit and converts it to room temperature. This is normally well below the dog's natural body temperature. For instance, it is 80 degrees in your house, the Cool Bed III will be 22 degrees cooler than your dog's body.
The Cool Bed III Features:
Indoor/Outdoor Use—The Perfect Place For Keeping Your Canine Cool Year-Round
No Electricity Required
Non Toxic
Unique Super Soft Material Maximizes Comfort And Cooling Capabilities
Aids In Medical Recovery, Skin Conditions, Callused Elbows, Arthritis and Excessive Panting
Easy To Clean - Just Wipe Down With A Damp Cloth
Great for Travel
3 sizes available:
Small 17" x 24" Up to 25 lbs
Medium 22" x 32" Up to 60 lbs
Large 32" x 44" Over 60 lbs
Also available are some great accessories for the Cool Bed III. The Cool Cover Fitted Sheet is the most affordable, durable option available in Cool Cover Accessories! This linen/cotton blend fitted sheet is available in two fashion colors to match any decor'.
The Cool Cover Bolster Sheet is the ultimate in Cool Bed III comfort accessory! This durable linen/cotton blend cover includes a soft, comfortable side bolster and will be any dog's favorite cool spot.
Your dog is more than a pet. She is part of your family! Give her the hot weather attention she deserves so that both of you can have a great summer.
Labels: cool bed, life jacket